Amazon Prime Membership Offer
Get 1 year on Amazon Prime at no additional cost, only on Postpaid (rental Rs. 499 or higher). Grab the offer now & enjoy
latest and exclusive movies & shows on Amazon Prime video
ad-free music with unlimited ​downloads on Amazon Prime music
unlimited FREE fast delivery and exclusive deals on shopping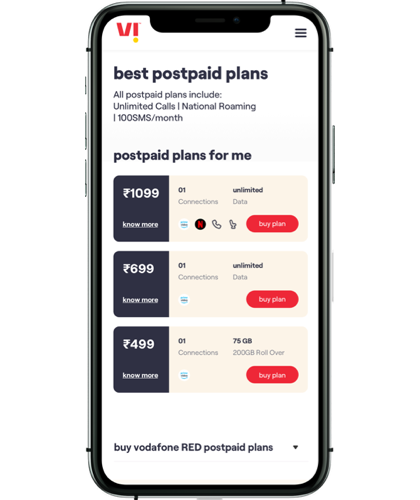 upgrade to postpaid get Amazon Prime membership
Upgrade to Vi™ Postpaid Entertainment Plan or higher (starting Rs. 499) to enjoy this amazing offer.

already on postpaid? – get free Amazon Prime subscription
Simply download Vi™ movies & TV on your device and activate the offer on the home page.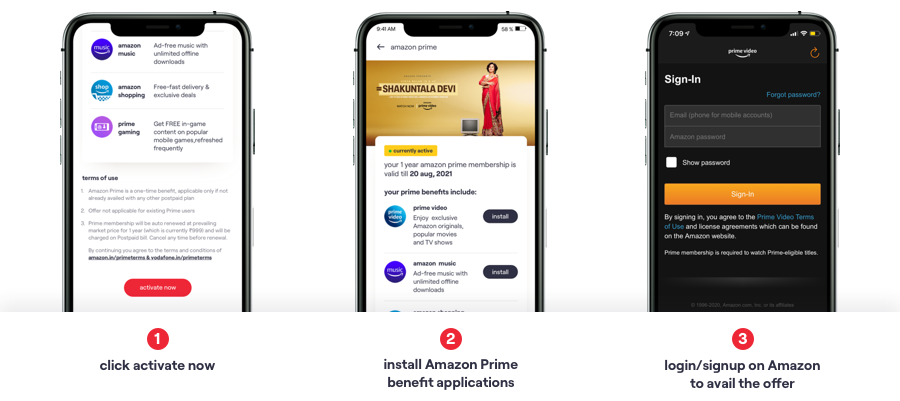 with Vi™ movies & TV you also get to enjoy live TV. latest movies, shows, and trending music videos. 
Amazon Prime offer and subscription
1. what is Amazon Prime? what are its benefits?
Amazon Prime is a subscription program where members enjoy unlimited free, fast delivery on eligible items and exclusive access to deals on Amazon.in, video streaming on Amazon Prime Video, ad-free music on Amazon Prime Music. For more details, please visit amazon.in/prime
2. how long is my Amazon Prime subscription via Vi™ valid for? will I be charged anything extra for subscribing to Amazon Prime?
As long as you are a postpaid plan user, the first 12 months of your Amazon Prime membership is included in your plan and you do not need to pay anything additional.
3. what is the cost of Amazon Prime?
Amazon Prime subscription is Rs. 999/year. However, if you are on postpaid plan, you get 12 months of Amazon Prime at no additional cost.
4. how to get Amazon Prime offer for free? how can I sign-up for the Postpaid-Amazon Prime offer?
It's easy! You can get 12 months of Amazon Prime at no additional cost with postpaid plans. If you are already on one of these plans, simply download the Vi™ movies & TV app from your app store and click on the promotion displayed on the home page to complete the sign-up process. By availing the offer, you agree to the terms on amazon.in/pt
5. i have an existing Amazon Prime subscription; will I be eligible for the Amazon Prime offer on postpaid plans?
The offer is available for new Amazon Prime customers only. You can sign-up for the Vi™-Amazon Prime offer after your existing Prime membership expires.
6. what happens at the end of one year or the offer period?
Postpaid plan users get 12 months of Amazon Prime subscription worth Rs. 999/year at no additional cost. Post the offer period, the subscription will be renewed and charged at the prevailing price of Prime membership (as on www.amazon.in/prime).
7. i downgraded my plan from an eligible postpaid plan to a non-eligible postpaid plan. will it affect my Amazon Prime subscription?

Yes. If you downgrade your plan to a non-eligible postpaid plan, your subscription to Amazon Prime might be deactivated. For details, please refer here
8. how can I cancel Amazon Prime subscription?
Amazon Prime membership is available for postpaid plans for 12 months at no additional cost. If you still wish to deactivate your subscription, you can call or SMS STOP to 155223
9. will I be informed before my subscription renews?
Three days prior to auto-renewal for the next year, Vi™ will send a reminder SMS for renewal of membership. Should you wish to discontinue before that please send a SMS STOP to 155223.
10. my bill is paid by my company, how can I renew my Amazon Prime membership? will I be charged for renewal?
As you have a company paid connection you will not be automatically renewed via your postpaid account. You will be sent a link to enter your credit/debit card details for renewal of Amazon Prime.
11. are Vodafone and Idea postpaid subscribers entitled to avail the Amazon prime membership offer?
Yes, since Vodafone and Idea are now Vi™, Amazon prime membership benefit is also applicable for existing Vodafone and Idea users. 
Amazon Prime product
1. i am not able to see the Vodafone RED-Amazon Prime offer on Vi™ movies & TV.
If you are on a Vi™ postpaid plan and still unable to sign up for the promotion, it could be because you are on an older version of the Vi™ movies & TV application. Please update the app from your app store to the latest version. If problems persist, you can contact Vi™ customer support directly on 199 (chargeable at 50p for 3 mins for agent access) from your Vi™ phone or +91 9820098200 from non-Vi™ phones. Additionally you may contact customer support through the methods listed on https://goo.gl/obKmcr.
2. how do I get support for Prime Video?
You can visit Amazon help page at https://www.primevideo.com/help/ref=dvm_MLP_INVODAFONE_help
3. how do I get support for my Prime benefits including free shipping?
You can visit Amazon help page at www.amazon.in/prime/ref=dvm_MLP_INVODAFONE_prime