Jobs to Do From Home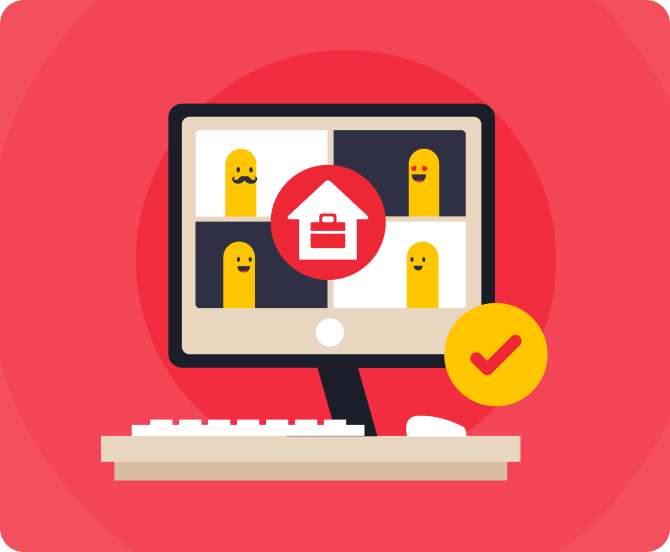 15 Best Jobs to Do From Home
Share
Copy to clipboard
Waking up early, rushing to complete the chores, and getting ready to go to the office every day was a routine we followed for many years. Then the Covid-19 pandemic instantly disrupted everything. We learned to adapt to the new normal of wearing masks, maintaining social distance, and working from home. Although staying cooped up indoors all the time and not meeting people made us question our sanity, we figured out newer ways to engage ourselves and make use of the break we all finally got! 
The WFH (working from home) concept allowed us to avoid the dreaded commute, provided us the flexibility to spend quality time with our loved ones, and helped us better utilize our time. Today, the remote work culture is way more common than it was a couple of years earlier, and corporations now understand the importance of WFH. Many multinational companies have followed suit and authorized a significant percentage of their employees to work remotely. 

If you are trying to switch from the old 9 to 5 office life to a permanent remote job, you can connect with your potential employers using Apna Jobs platform through the Vi App.

Here are the 15 best jobs to do from home that you might find interesting.

15 Work From Home Jobs for 2022:
In most of these roles, you can choose working full-time or part-time for an organization, or work as a freelancer according to your preferences.
Graphic Designer

The role of a Graphic designer is to create customized images, banners, landing pages, logos, etc., using design software. Most companies require proficient knowledge of basic tools like Photoshop or Canva and some decent computer skills.

Social Media Manager

If you have some prior experience creating campaigns, you can help companies build their online brand presence and increase online traffic on social media platforms like Instagram or Twitter. Since it is an online role, working remotely from your home won't be a problem.

Content Writer

The job of a content writer includes thorough research and creating quality content for a niche audience. If you are good at grammar with a flair for writing, you can apply for freelance writing roles for blogs, magazines, etc., or even work in a full-time position for an organization.


Online Tutor

If you are an expert in Math, English, or any other subject, you can help students across the globe with online teaching. There are many online teaching platforms where you can connect with students and teach using video conferencing tools.

Market Research Analyst

As a Research analyst you should know how to study market conditions by understanding data and preparing charts or graphs to help companies determine the potential sales/performance of a product or service.

Home Baker

When the pandemic forced people to stay indoors and restaurants were shut down, people started looking for hygienic home-cooked options. With that came the emergence of home-bakers, many of whom turned their passion into a source of income. So if your friends and family rave about your delicious cakes, it is time you explore the option of turning your hobby into a career!

Fitness Trainer

If you are a certified instructor or a self-learned expert, you can start as an online fitness instructor to help and motivate others to be healthy and guide them to get into shape. 

Online Recruiter

Help large firms reach out to qualified potential candidates, manage their applications, and use online audio/video tools to aid the hiring process.

Virtual Assistant

Use virtual scheduling tools to schedule meetings, respond to emails, and provide administrative support to team members. Work remotely as a Virtual Assistant and help large teams achieve their goals.

Accountant / Finance Professional

If you have a knack for budgeting or bookkeeping, you can be in the finance team, helping companies manage their finances like maintaining invoices, paying taxes, etc. You can start online with a small business and scale up from there.

Data Entry Operator

If you have some knowledge of databases with an eye for detail and you are good at Microsoft Excel, you can start an entry-level job as an online data-entry worker. 

Translator

A translator converts any written material from one language to a target language. If you have good command over two languages you can easily become a translator. Typically most translator jobs only require a bachelor's degree, however, clearing an advanced certification in a given language might come in handy. 

Telecaller

If you are looking for a job without any formal degree, a telecaller job can be the one for you. Telecallers help generate leads and sales by engaging existing or potential clients in telephonic conversations.


Tech Support Specialist

With some specialized technical knowhow of computer hardware and software you can aid companies in troubleshooting and resolving technical issues.


Counselor / Life Coach

A trained professional can help others make progress and lead better lives by being a wellness coach. Or, if you are a licensed counselor, you can set up a home/virtual office to help and guide your clientele.

 
All Vi customers can apply for any job with Apna through the Vi App without any additional charges. Get exclusive benefits like moving ahead of the queue and increase your chances to appear for a relevant job based on the criteria.
liked this post? here's what to read next:
Selected Plan
10% off on Plan
most Popular
Amazon Prime
Mobile Number Details
Talktime
Unlimited
Zee5
explore family plans


plan details

connection
Amazon Prime
6-month Amazon Prime subscription at no extra cost
(for primary member only)

plan details
Entertainment 399
per month