FREE Home Delivery of Postpaid SIM with MiFi
FREE Home Delivery of Postpaid SIM with MiFi
Vi MiFi – Portable WiFi FAQs
Vi MiFi is a portable wifi router that enables you to create a personal hotspot/mobile hotspot and simultaneously connect multiple devices and users to Vi's high-speed Data.

---
Vi (Vodafone Idea) MiFi/Wireless Dongle supports download speeds up to 150Mbps and upload speed up 50Mbps

---
Vi MiFi comes with a best in class inbuilt 2700 mAh Li-ion rechargeable battery that can support 5-6 hours of use on full charge

---
Vi MiFi or Wireless Dongle can securely connect 10 WiFi enabled devices like Smart TVs, Laptops, Mobiles, Tablets, CCTVs, Smart Speakers at the same time

---
You can purchase Vi MiFi/Wireless Dongle device at Rs2000 inclusive of tax. In addition, you will need to purchase a new Vi Postpaid SIM for which you can choose from our new MBB plans.

---
---
Yes, Vi MiFi plans listed here come with 200GB of data rollover.

---
At any given time, if you exhaust the monthly data available in your Vi MiFi plan as well as any unused rollover data from previous months, you will be charged at Rs20/ GB for additional data usage within the same month.

---
Yes, you can buy our standard data packs from Vi app. Choose from 20GB @ Rs100 or 50GB for Rs200.

---
To start using your Vi Postpaid SIM with your Vi MiFi device, pls activate the Vi SIM by calling 59059 for tele-verification of your Vi number. Once done, insert the SIM in your Vi MiFi device and get connected to Vi superfast internet.  

---
To view or manage your account, use the details below for the 1st login after connecting Vi MiFi device to your laptop, desktop or tablet:
Login Details for using data on your device:
LoginURL: http://192.168.1.1
Username: admin
Password: admin
You can check your plan details and pay bills from Vi App. 
---
Yes, Vi Mifi portable wifi router comes with a manufacturer's warranty which covers the device, USP cable and battery. The warranty is applicable for 12 months from date of sale/date of device activation as per Binatone or 14 months from date of manufacturing, whichever happens earlier. Broken/mishandled & electrically damaged devices/liquid spilled/customer induced damages will not covered in warranty.

---
You can call on the centralized Binatone Service helpline at 7428130659 (toll-free).

---
You can call on the centralized Binatone Service helpline at 7428130659 (toll-free).

---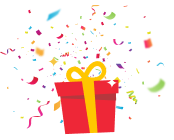 opening your gift
yay! get ready to stream your favourite shows & movies
150GB extra data (valid for 6 months), exclusively on ₹399 postpaid plan
I want to see other plans